GM-X Pipe
Galvanised steel pipe and fittings system
ACO's GM-X pipe range of socketed galvanised steel pipe products is designed for external applications, such as rainwater drainage, where a robust and highly durable system is required.
GMX Pipe has a two-stage socket design utilising the GMX seal to provide rigid and solid, buckle-proof connection of fittings, guaranteeing joint tightness.
ACO GM-X pipe is available in different lengths and a choice of eight different diameters ranging in size from 32mm to 200 mm. GM-X pipe is compliant with BS EN 1123 and ACO also provides a range of accessories including angled bends, single, double and corner branches, connectors and brackets.
Featured Downloads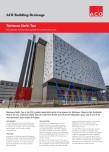 Telehouse North Two Case Study
Telehouse North Two is the fifth London-based data centre to be opened by Telehouse. ACO Building Drainage delivered a stainless steel pipe solution within the given timeframe and budget.
Related products