Product Overview Brochure
Now available to download
Click the ​links below to learn more about our high performance drainage products and systems for a wide range of commercial and industrial applications including:
Further information on the products and technical support services we provide for each market sector can be found in our Product Overview Brochure which can be downloaded below.
Download our product overview and design service brochures

Introduction to ACO Building Drainage
We specialise in the design and development of corrosion resistant drainage systems and products for applications across the internal and external built environments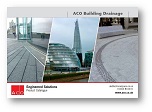 Engineered Solutions Brochure
Our design team can help find the solution for your specific project applications.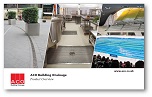 ACO Product Overview Brochure
A complete overview of the ACO Building Drainage range.
Get all your downloads
Remember, product specific downloads are available on individual product pages. These include PDF Brochures, Installation guides, CAD drawings and BIM Models.