Specify + Purchase Access Covers
Identifying suitable product using the selector
ACO Access covers are made up of two ranges:
ACO UniFace recessed access covers, designed to blend with hard and flexible floors. UniFace covers are available in aluminium, hot dipped galv steel or stainless steel grade 304 as standard. Covers can also be manufactured in S/S grade 316.
ACO UniTop solid covers provide contrasting aesthetics and easy identification in hard floor and pavement finishes as internal inspection and manhole covers. For safety in use, all solid covers have a raised slip resistant surface.
You can easily find the correct Access Cover product for your project using our specifier tool below. Simply answer a few questions to define your solution and then proceed to purchase the product either from your preferred merchant or directly from ACO.

A full product specification datasheet PDF download is available once a suitable product is identified.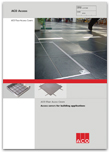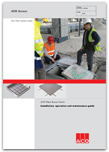 All Specify + Purchase Products
E-Commerce Products
Specify + Purchase products