Shower Gratings
Designer gratings for gully and channel systems
ACO provides a wide choice of shower grating designs. These are ideal shower drain covers for both gully and channel systems providing elegant options to suit every taste for both bathrooms and wetrooms. ACO shower gratings are available in electro-polished stainless steel, glass or textured surfaces in a variety of shapes and lengths.
Download our wetroom brochure
ACO Wetroom Brochure
Wetrooms create a barrier free shower environment that removes the restrictions imposed by conventional products, creating a minimalist approach to design, generating space and allowing freedom of movement.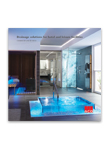 Hotel & Leisure Brochure
ACO has extensive experience of providing drainage solutions for the hotel and leisure industry.
Related Products