V-Septor
Proprietary treatment system
The ACO V-Septor is an advanced hydrodynamic separator that removes sediment bound contaminants. Its design enables removal of pollutants by means of settlement and the capture of floatables.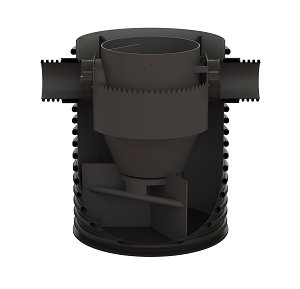 The ACO V-Septor is available in a range of sizes to accommodate small to large sites and can be custom made for demanding installations.
The ACO V-Septor retains solid pollution and oil. It also forms part of the SuDS management train as it removes over 50% of fine Total Suspended Solids as well as sediment bound metals and hydrocarbons.
SuDS mitigation indices
The ACO V-Septor is a recognised proprietary treatment system defined by The SuDS Manual C753 as a hydrodynamic or vortex separator. Therefore, the ACO V-Septor can be part of the SuDS treatment train and can deliver the SuDS mitigation indices below:

Details available on request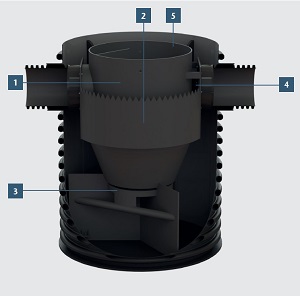 How it works
The deflection plate directs the incoming stormwater to create a vertical vortex.
Suspended solids settle down in the sludge chamber. Light liquids and debris are captured at the surface.
Radial flow baffles create isolated zones to retain sediments in the sludge chamber and prevent remobilisation of sediments during peak flow events.
Cleaned water flows up the outer chamber and over the balancing weir and then passes through the outlet to discharge to the water environment.
Captured solids and debris can easily be removed by suction hose during maintenance.
Features
Available in 6 sizes from V-Septor 750 to V-Septor 2500
Delivered with lifting eyes, and straps for ease of installation
Delivered fitted in a HDPE chamber, lightweight and easy to handle
Easily maintainable with a suction hose thanks to an open central structure
Extensions shafts available in 500mm and 1000mm height
Remove medium size sediments (63 to 250µm)
Benefits
Forms part of the SuDS management train
Reduce the maintenance requirements of downstream attenuation storage and SuDS components
Short lead time
Maintenance friendly design
Great sediment storage capacity
Removes solid pollution – from plastic rubbish to fine silt
Recommended Applications
Car parking
HGV parking
Light industrial
Heavy industrial
Distribution yards
Airport (airside)
Port and dock sides
Security areas
SuDS
Not Recommended Applications
Related products