Profiline for wood
ROOF, TERRACE AND BALCONY RAINWATER DRAINAGE SYSTEM
PROFILINE FOR WOOD
The subject of façade drainage has gained in importance in recent years, especially for connecting areas with a barrier-free threshold. The objective to be achieved here is to prevent water ingress behind the waterproofing and/or rainwater from entering the building.
Applying design to the demands of modern living constantly challenges architects and engineers to conform to new compliances and improve function through choice of building materials.
ACO Profiline for wood channels are an advanced threshold, roof and balcony drainage system combining line drainage with point drainage by using an open sided drainage channel system to collect and convey rainwater to drainage points within a raised or suspended deck structure. Designed to be used with installations of wooden decking due to its unique 20mm total height.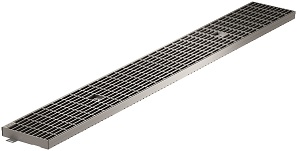 Steps must be taken to ensure that no moisture can penetrate the building from the outside, especially in sensitive door and external areas of terraces, roof gardens and balconies at any time. The ACO façade channels go perfectly with all complex architectural building projects. Various design variants can be achieved using the different grating designs.
Complying with National Access Regulations
ACO Profiline for wood channels provide level access drainage in compliance with:
England and Wales Building Regulations ACCESS TO AND USE OF BUILDING: Approved document M
Scottish Building Standards DOMESTIC AND NON DOMESTIC HANDBOOK: Section 4
Northern Ireland Building Regulations, DFP Technicial Booklet R:2006 ACCESS TO AND USE OF BUILDINGS: Section 7
Recommended Applications
Not Recommended Applications
Brochures