MultiDrain PPD Brickslot ST
Create discreet drainage applications
ACO MultiDrain PPD has a range of gratings to complement installations which require discreet slot drainage.
Designed as standard with a heelguard 10mm off set drainage inlet, ACO Brickslot ST is a subtle and unobtrusive grating which when combined with the ACO MultiDrain PPD channel, can be used as a solution to complement discreet drainage applications and is ideal for use against building facades.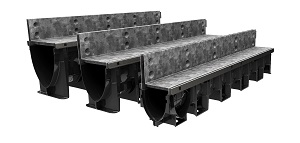 Compatible with most paving materials, the vertical sides of the grating enable pavements to be laid directly to the unit's edge. Once installed the system is totally secure and not vulnerable to vandalism or loose grates making it a suitable for applications such as schools and playgrounds where grating removal can become a hazard.
The channel and ACO Brickslot ST grating together provide an unobtrusive continuous slot drainage system, with high hydraulic efficiency for fast removal of surface water. ACO Brickslot ST gratings are available in galvanised steel and are suitable for use with the 100mm, 150mm and 200mm wide channels in the ACO MultiDrain PPD range.
The system includes an ACO Brickslot access unit to ensure easy maintenance and access to the drainage system, and is also fully compatible with the range of ACO MultiDrain PPD accessories.
The system is suitable for applications up to and including Load Class D 400. This product is not suitable for carriageways of public roads or motorways.
Sizes and gratings
Compatible with the ACO MultiDrain PPD 100mm, 150mm and 200mm wide channels and accessories.
New ACO Brickslot ST
ACO is proud to announce a major improvement for discreet channel drainage, the new Brickslot ST gratings will supersede the Brickslot gratings
ACO Brickslot ST offers safer and improved installation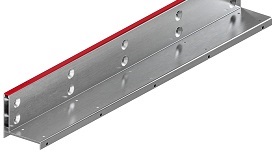 Protective cover
The red protective cover is delivered already attached to the grates and access units. The channel is built in, while the protective cover is still covering the slot. Once the finished surface is laid, the protective cover can be removed. No sand or dirt enters the channel and scratches on the slot from installation are minimised.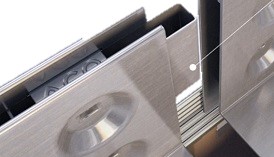 Folded edge and new connector
The new larger connector design allows easier alignment and an improved straightness of the channel run. The folded edge on the side of the grate prevents mortar or sand from entering the channel during groundworks.
The new Brickslot ST grate is compatible with the full range of ACO MultiDrain® channels and has these additional benefits:
Easier alignment and improved straightness of the channel run due to the new larger connector design
Easier installation. A new folded edge on the side of the grate prevents mortar or sand from entering the channel during groundworks
The slot is protected during installation from silt and dirt as the product comes with a protective cover
The frame is made with a more sustainable and more efficient technology of clinching, the press joining of sheet metal without any additional material, instead of welding
Fully tested according to EN 1433:2002
Features
Discreet slot drainage system
Ideal for use against building facades or as a Part M threshold drainage solution
Compatible with most surface finishes
Heelguard 10mm off set drainage inlet
Benefits
Access unit available to ensure easy maintenance and access to the drainage system
Suitable for Load Class D 400 applications
Compatible with the ACO MultiDrain PPD 100mm, 150mm and 200mm wide channels and accessories
Recommended Applications
Threshold drainage
Public landscaping
Car parking
HGV parking
Petrol station forecourts
Light industrial
SuDs
Not Recommended Applications
Public highways
Heavy industrial
Related products