Our Top 3 - ACO on Air - Integrated Transport
These are the ones to watch first !
On this page we'll share with you some of our top videos from our Youtube channel
For more information on how ACO can help with Integrated Transport projects please see our Integrated Transport Systems page:
Alain Waha on Digital Collaboration
Ecobuild 2017 ICE Infrastructure Seminars - Alain Waha, Global Lead, BIM & Digital Transformation, BuroHappold Engineering on Digital Collaboration – Opportunities & Threats
Garrett Emmerson of TfL on challenges of London's transport network
CIHT annual Conference 2017- Garrett Emmerson - Chief Operating Officer, Surface Transport, TfL, on how Transport for London is doing in meeting the needs and challenges of operating the transport network in London and managing demand.
Global Highways and Transportation Issues
Global Highways and Transportation Issues - Sue Percy Chief Executive, CIHT interviews Hugh Gillies, Director for Trunk Roads and Bus Operations, Transport Scotland and Jeff Paniati, Executive Director and CEO, Institute of Transport Engineers – America. Speaking at the 2018 Chartered Institute of Highways and Transportation (CIHT) annual conference.
Subjects addressed include US Federal and State funding mix and the need for funding. STEM for women in Scotland and the U.S. Lessons learned from the recent snowy weather in the U.K. ITEs smart communities initiative, the low carbon future and air quality. They also look at the separation of the planning agenda with the transport agenda.
FEATURED DOWNLOADS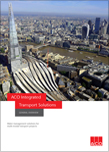 Integrated transport solutions brochure
Water management solutions for multi-modal transport projects
Integrated Transport Systems
To find out more on ACO Integrated Transport Systems solutions, click the image below.