StormBrixx Range
Surface water infiltration and storage
ACO StormBrixx is a unique and patented plastic geocellular stormwater management system
Its versatile design allows the system to be used in applications across all construction environments as a standalone solution or as part of an integrated sustainable urban drainage (SuDS) scheme.
The patented brickbonding and cross bonding feature provides a strong, long term installation and also helps to improve the construction speed of the tank.
ACO StormBrixx simplifies delivery, site logistics and installation as a result of its stackable design. For each delivery of StormBrixx, up to 4 loads of competitor product may be required, making StormBrixx approximately 75% more efficient in delivery.
The range consists of StormBrixx SD (standard duty) and StormBrixx HD (heavy duty) stormwater management systems.
Key benefits
Access and Maintenance
The whole system, including all the extremities can be inspected and maintained from just a few access points thanks to the open cell structure.
Simplified handling and logistics
Each single injection moulded body nestles optimising logistical and installation costs, thus helping to reduce carbon footprint of the system.
Structural Integrity
The patented brickbonding and cross bonding feature enables strong, long term installation and improved construction speed of the tank.
Easily Configurable
The StormBrixx system is easily configurable, so a solution can be achieved even on the most challenging of sites.
Stormbrixx Overview Video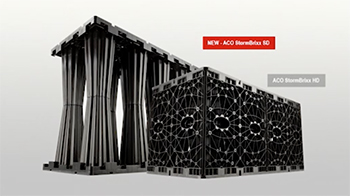 Stormbrixx - 1 Minute Overview Video
This short video will give you the basics of the ACO Stormbrixx system. This includes it's many features:
StormBrixx SD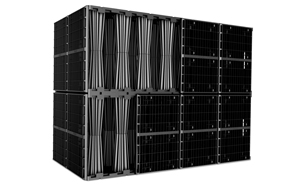 StormBrixx SD is suitable for use in a wide range of construction applications
StormBrixx HD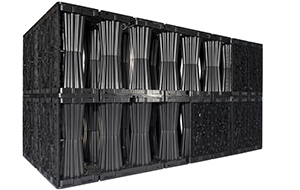 StormBrixx HD- The heavy duty stormwater tank is designed for where installation depth and access requirements are of greater importance to the project. It has Man access units for the more comprehensive maintenance requirements of Local Authorities and water companies.
StormBrixx System
For both systems the open cell structure allows easy access for CCTV and jetting equipment, enabling the whole system, including all the extremities, to be inspected and maintained from just a few access points.
The ACO StormBrixx system consists of a single recyclable polypropylene piece that can be assembled in a variety of ways to form an open bonded structure.
ACO StormBrixx's unique pillar configuration gives a high porosity up to 97%. This minimises the excavation required to achieve a specified storage capacity, reduces the aggregate needed for backfilling, and improves the flow characteristics of runoff through the installed tank.
Side panels are added to the perimeter of the system for lateral support and top covers are added to ensure consistent vertical support for the cover fill material.
Additional accessories available for both ranges include inspection point and pipe connectors, geotextiles and geo-membranes, as well as a 600 x 600mm access chamber for full inspection and maintenance for the StormBrixx HD.
ACO StormBrixx can be configured to minimise silt accumulation and has the added feature of a low flow and drain down facility ensuring that the system can be properly maintained throughout its life.
Designed and manufactured in accordance with CIRIA C680.
Recommended Applications
Not Recommended Applications
Featured Downloads
Related Products